It's no secret I love me some storage bins in all shapes and sizes. Trunks, cubes, wire baskets you name it...I'm drawn to it.
A long while back I spotted this amazing vintage toy box from Serena & Lily (enter the dollar signs here).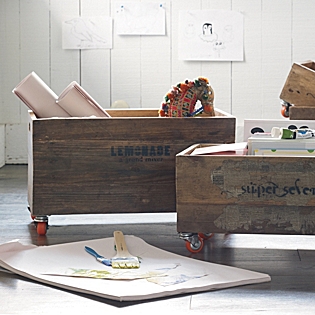 So I kept that in the back of my mind until I was ready to tackle something similar on my own. Avery has an ever expanding collection of books and she loves to read. Many of them make their way downstairs however she still had no place to store them in her room where it is safe and accessible for her to get to them.
I had seen the unfinished crates before at the craft stores and had a 40% off coupon to Michael's recently so decided I'd go for it. I bought one crate only having one coupon and it came to around $5. So what did I do...what any normal DIY crazy person would do...drive directly across the street to A.C. Moore and buy another one using the same coupon.
I had some left over wood stain from the Maritime Dresser I did...so while Avery played in the yard I sat and quickly sanded and stained the two crates.
I didn't bother staining the inside bottom because I cut a piece of scrap 1/4" plywood to fit in there so no toys etc get caught in the slats.
Avery then had to run a few quality tests with some toys...
After the stain dried with chalk I freehanded giant numbers on the front of them. I got some white paint and a foam brush and painted in the numbers. I didn't want perfect coverage as I wanted them to look vintage.
After the paint dried i wanted to tone down the stark white so I did another coat of stain over the paint and it gave it an antique feel.
(although I'm just realizing from this picture below it doesn't look that way...but it does in real life)
I also added some small casters I picked up at the local hardware store. They aren't near as cool as the orange ones from Serena & Lily but they work for me.
They've been loaded up with books and toy and can move around her room easily!
Total cost of the project was around $20 since i had a lot of the supplies. Beats the $100 plus alternative!