Happy 2012 All!
I hope everyone had a great New Years, I had a fun night with friends up north; baby free! I'm looking forward to a fresh start to 2012 and what is yet to come! I'm not a resolution kind of girl...more of a let's make a list and conquer type. How about you?!
Now onto what's been going on...
I have a tough time coming up with different centerpiece ideas when it isn't a specific holiday...you know those in between stages. Kind of like where I am right now...Christmas is all packed away leaving a void on my kitchen table.
So I went out on a search to see what I could dig up for some fresh ideas. Let me tell you it was a tougher task than what I was expecting.
Don't get me wrong I love flowers and candles but I also like something pretty to look at that doesn't need tending too.
First up; low wooden bowls with moss. Simple. I could probably find something similar around the house.
Next I found a cool vintage box with plants that don't need a lot of attention. You could even put napkins and salt & pepper in there for everyday use!
Feathers in a pitcher! Simple yet unexpected.
Finally another vintage wooden box with a variety of items paired with the candles. This would be fun to switch up every few weeks with random little trinkets. Or you could also store your silverware in old mason jars for easy access.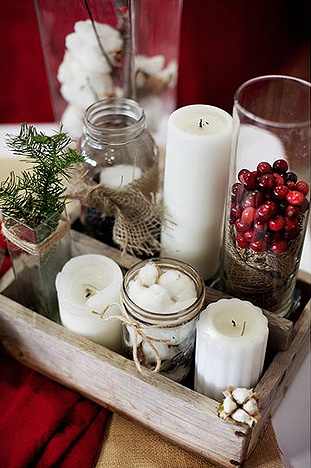 So, what's on your table? Anything? I'd love to get some more ideas!
I'll be back soon with a new red hot piece of furniture (hint hint). And do you remember these closet doors I said I have something in mind for...
...well we completed the project and as soon as I snap a few pictures I'll be back with all that fun!