I've been designing a lot of mood boards lately for not only myself but friends and family.
The great thing about mood boards is that you can go into your own little imaginary world and design to your hearts desire and the cost is $0. And the way this economy (and gas) has been behaving free design is always good! I thought I'd share a few with you for fun!
stats: just bought her first place in the city. Great location but limited on space so storage is key. The condo has great light, neutral walls dark hardwood floors and a crisp white kitchen with stainless steel and an open floor plan.
solution: keep the big pieces light and use pops of color throughout to add interest. A "mini" sectional with a dresser/buffet backed up to it for storage and/or a place to serve food. She needs lots of things to have more than one purpose so a trunk for the coffee table offers storage but still looks pretty. Using texture for the floor and pillows keeps things flowing.
I love the idea of mixing red & pink with a pop of metallic (in this case gold). She is putting in plantation shutters (yum!) and I suggested layering her sliding door with sheers and a silk panel for more visual interest as well as privacy.
stats: my nephew (besides being adorable!) is the only little man of the house as he is wedged between 3 sisters! Although he loves them he is surrounded by girly and needs a mini-man cave to escape.
solution: He is into sports (and is very good at them!) so he has a collection of memorabilia to display. His room has the basics but needed a little punch to stand out. He has the PB kids vintage camo bedding and I suggested they make a headboard out of an enlarged Wrigley Field (they live in Chicago) photo cut into smaller squares, framed and grouped together.
His curtains as you'll see above are grey grommet panels but I thought that wall could be an accent since that is what you see walking into the room. I suggested pulling the different shades of greens out of his bedding and doing a horizontal stripe.
He also needs an accent color so I suggested either red or orange. He currently has a nightstand that needs some TLC so painting it a fun pop of color is unexpected and youthful.
Now to his sports stuff...it's everywhere and I though displaying it like a gallery or sports museum would be fun. A wall of frames to show off his photos and jerseys etc and Restoration Hardware kids has cool metal wall hanging rings to display sports balls.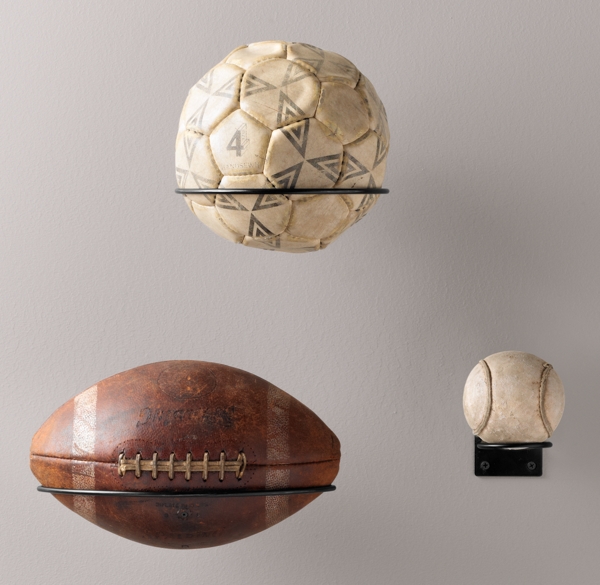 stats: single mom who needs her bedroom to transform into a grown up space and be a place to kick back and relax.
solution: Okay first off her room is HUGE. She has a giant window seat and room for a couch and coffee table! I suggested a fun fabric for the drapes and to hang them on the outside of the window niche so it creates a lounge vibe. Filling it with lots of fun girly pillows and maybe a small wall shelf to hold that glass of wine!
Slipcover the existing sofa and bring in a light and airy coffee table with some storage. For the headboard, going with a neutral upholstery and nail-head trim for some sparkle. I'm on the hunt for a dresser to refinish for her; I think some light distressing to give it a relaxed feel. She also has lots of photos of her daughter she wants to display so again what better way than a photo wall. Keep it consistent with either all black & white photography or matching frames.
I was very bad in not sourcing anything however I pretty much know where I pulled everything from so if you have questions or if something is yours please let me know and I will make note.
Speaking of sourcing images. have you heard of Pinterest?
It is my total obsession! Basically you can pull images from anywhere on the web and add them to your board and it credits the original image user for you. You can also "pin" other peoples images to your board and "follow" people and what they are pinning. Here is mine so far I just started so I have lots to add.
Some of my boards are: Crafty Ideas; Lovely Spaces; I Heart Photos and Good to Know
Pinterest is an invite only site so if anyone is interested I'll invite the first 5 people who comment that they want to join Pinterest!
Anyone else have any mood boards that they've recently put together either for fun or for something that is going to transition into a reality? if so I'd love to share so send them along and we'll show them off for you!